Donated winter gear a treat for teens
Regional youth get a much-needed break with a trip to the snow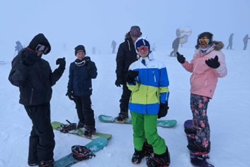 Twenty youths from a bushfire-affected community in Victoria's northeast, reeling from the deaths of five of their peers, were offered some respite in the snow recently.
GIVIT was able to buy purchase warm outdoor clothing for twenty teenagers heading on a trip to the snow run by a local neighbourhood centre.
The isolated town of Corryong, located 120 kilometres east of Wodonga, and home to less than 1,500 people, has experienced landslides, floods and COVID-19 since the 2019-2020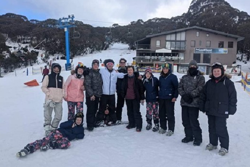 Black Summer Bushfires. The tight-knit community has also been rocked by the deaths of five young men, three of those to suicide.
Coordinated by Corryong Neighbourhood Centre, two groups of young people aged 12-20 travelled on weekend skiing and snowboarding trips to Falls Creek in between regional Victorian lockdowns.
A welcome boost for mental health
Local youth worked Adele Miles said the trip was a boost to the mental health and morale of young locals. "The two snow trips have had an incredible impact on those fortunate enough to attend, with many being able to identify goals and achieve them over the course of the weekend. It was great to watch how resilient our local youth could be, not only in regard to the physical stamina required to ski or snowboard for 5 hours a day, but the mental capacity to keep getting up and trying again."
"For some, this was their first time learning how to ski or snowboard, and for others it was their first time going to the snow ever, so it was very rewarding to be involved in making these events possible, and the countless memories that came with them. These trips were an opportunity for youth to be independent, not only on the slopes but back at the accommodation as well, where the group could enjoy games of pool, table tennis, and trivial pursuit which each other before a good rest and another day on the mountain."
The social connectedness achieved through these trips is monumental in a time of continuous lockdowns and virtual learning when most of the youth have been unable to see their friends our leave our small town in months.
We hope these two weekends away will have continuous positive effects for the local youth, who can now look back at their own achievements [on the slopes] and see that anything is possible now and in the future.
Local suppliers help out
Towong Council Local Recovery Officer Shea Bloom worked with GIVIT engagement officer Lisa to ensure the program participants had warm clothing for the ski trip, which they could then keep and use in future winters.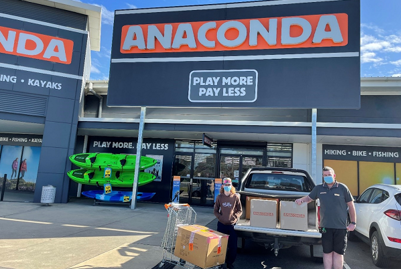 "When Shea requested the items, I got to work sourcing all the items requested - jackets, pants, gloves. Anaconda does a lot of amazing work with GIVIT and ski brand XTM Performance - collecting pre-loved winter clothing at many Anaconda stores. So naturally they were my first port of call. The team at the Albury store jumped at the chance to help, getting all the required stock sent from eight stores, and offering GIVIT a good discount," Lisa said.
The smart way to give
The trips were organised by local youth workers, thanks to funding from Murray Primary Health Network, and Upper Murray Regional Neighbourhood House Network's 'Enabling Communities' project.
Want to help? Head to https://www.givit.org.au/whats-needed and use the filter options to customise your requests. You can:
Use the cause or keyword filter to find a request that resonates for you (e.g. search 'teenagers' or 'youth' as a keyword.
Use the category filter to find requests for items that you can donate such as ski and snow gear or warm clothing.
Use the location filter to find requests from organisations and charities working in specific towns and communities such as Corryong.
The entire group would like to thank GIVIT, the wonderful donors (whoever they were) and Anaconda as well. This made a somewhat unachievable or unrealistic trip come to life thanks to amazing generosity.

Thank you from all our little Upper Murray hearts!"